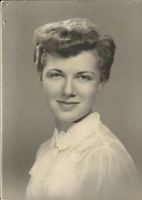 Louise C. Hofknecht
Louise C. ( Grace) Hofknecht, age 81, of Phila., PA died Sunday, February 25, 2018 at home in Andorra
Mrs. Hofknecht was born July 18, 1936 in Phila., PA. She is the daughter of the late Frederick and the late Vlaria (Muruck) Grace. She is the beloved wife of Albert M. Hofknecht.
She was a retired Dispatcher for Honeywell Corp.
Louise was a proud graduate of Saint Mary's Grammar School and The John W. Hallahan Catholic Girls High School.
She was a former member of Saint Mary's Church and current member of the Immaculate Heart of Mary Church in Andorra.
She will be sorely missed by her devoted family and many friends.
She is survived by her husband: Albert M. Hofknecht three sons: Allen M. Hofknecht, Robert G. Hofknecht and Thomas J. Hofknecht. She also has one granddaughter-Haley Brook Hofknecht.
Louise was predeceased by her brother Joseph Grace.
A memorial service will be held 11:00 am on Monday, March 5 at Lownes Family Funeral Home, 659 Germantown Pike, Lafayette Hill, PA. 19444 .
Calling hours will be Monday, March 5 from 10-11am at Lownes Family Funeral Home.
.