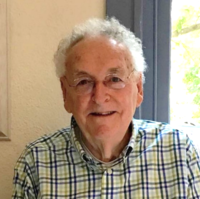 Harold W. Schwartz Jr.
Harold William Schwartz, Jr., 90, died the sixth of February at the Masonic Village, Lafayette Hill, Pennsylvania.
Hal Schwartz was born in Philadelphia in 1927, the only child of the late Ruth Beatrice Raudenbush Schwartz and Harold William Frederick Schwartz. He was raised in Roselle, NJ and graduated from Abraham Clark High School in 1945. Following high school, he enlisted in the United States Navy and served as a corpsman in Japan and at the Philadelphia Naval Hospital. He studied interior design at the Philadelphia College of Art, graduating in 1953.
Hal worked briefly as a designer for Strawbridge & Clothier before joining the Devereux Foundation, from which he retired as an executive after forty years of service. Later, he served fifteen years as the business manager for St. Peter's Lutheran Church. He was a member of St. Peter's Lutheran Church and an active member in his local community.
He was the beloved husband of Ursula Straub Schwartz, whom he met at college. Married in 1954, they spent over sixty-three years together. Ultimately, he was the perfect family man with a caring and genteel approach, deft in subtlety like few have ever met. He will be greatly missed by the many people he touched over his long and rich life.
Hal is survived by his wife, Ursula; six children, Hans Schwartz and his wife Karen McKee of Williamsburg, VA, Lisé Schwartz of Bridgeport, CT, Kristine Coate and her husband Andrew of Madison, NJ; Erika McCarthy and her husband Richard of Bridgeport, CT, Gretchen Flossman and her husband Loren of Arlington, VA, Jennifer Cohen and her husband Daniel of Edinburgh, Scotland; and five grandchildren, Erin Schwartz and her wife Sarah Bagierek, Benjamin Schwartz and his wife Sherin, Alex Cohen, Julia Cohen, Jack Cohen.
******A memorial service will be held at 11:00am of Saturday, March 3 at St. Philip Neri Church, 437 Ridge Pike Lafayette Hill, PA.19444 THE SERVICES HAVE BEEN MOVED DUE TO POWER OUTAGE AT SAINT PETER'S CHURCH*** The family will receive visitors at the church at 9:30am.
Memorial donations may be made to St. Peter's Lutheran Church, 3025 Church Road, Lafayette Hill, PA 19444 on online http://www.stpeterslafayettehill.org/online-giving/.