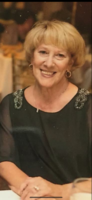 Denise E. Sutcliffe
Denise E. (McMahon) Sutcliffe, age 65, of Horsham died suddenly Tuesday, January 30, 2018 at Abington Hospital. Denise was born April 15, 1952 in Phila., PA. She is the daughter of the late Frank and the late Marie (Evans) McMahon.
She is the beloved wife of Kevin A. Sutcliffe.
She is survived by her husband: Kevin A. Sutcliffe and two sons: Brendan and Timothy Sutcliffe.
A Mass of Christian burial will be held 11:30 am on Saturday, February 3 at Saint Catherine of Siena Church, 321 Witmer Rd., Horsham, PA. 19044.
Burial will be in Holy Sepulchre Cemetery, Cheltenham .
Calling hours will be Saturday, February 3 from 10-11:30am at Saint Catherine Of Siena Church.
Memorial donations may be made to the above church.
.