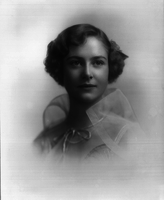 Jane N. Meckling
Jane Norris Meckling, widow of The Rev. Gustav Charles Meckling (deceased), died on January 25, 2018. She was 99 years of age. She was predeceased by her son David Paul Meckling. Her daughter Patty Jolliff-Lanford, son-in-law Stephen Lanford, and daughter The Rev. Judith Bonney Meckling mourn her death, but also celebrate her moving into a new life.
Jane graduated from the Agnes Irwin School, attended Vassar College and began student teaching at Agnes Irwin in the elementary grades. At that time, she contracted German measles, which caused profound hearing loss.
Jane learned speech reading at the Trask School for Speech Reading. She was invited to become a speech reading teacher and taught students with hearing loss for many years. The Rev. Gustav Meckling, her future husband, was one of her students. Jane became a member of The Chapel for the Hard of Hearing, an Episcopal mission founded by her husband. Jane spent much of her life ministering to members of the Chapel and later to members of All Souls' Church for the Deaf as a kind and compassionate counselor and friend. After the death of her husband, Jane became a member of St. Gabriel's Church in Philadelphia.
Jane respected the dignity of every human being and loved the beauty of all of God's creation. Wherever she went, Jane always had a kind word for everyone she met. She was a woman with profound spiritual awareness, a poet, deep thinker and mother to all.
Jane was a member of many organizations, including the Society for Better Hearing, the Acorn Club and the Pennsylvania Horticultural Society. Her greatest gift to her family and to all whose lives she touched, through her healing hugs and encouraging words, was her capacity for unconditional love.
Jane's memorial service will be held at 11 am on Saturday, February 3, at The Church of St. Jude and the Nativity, 203 Germantown Pike, Lafayette Hill, PA 19444. Visitation will be at the church from 10-11 am. In lieu of flowers, please make donations in her name to Mohonk Preserve (www.mohonkpreserve.org /845-255-0919) or to Thorncroft Equestrian Center (www.thorncroftequestriancenter.org /610-644-1963 c/o Sallie).
Jane was a graduate of the Agnes Irwin School and attended Vassar College.She served an apprentice teaching position at the new Agnes Irwin Lower School.
Losing her hearing , she learned to read speech at the Trask School for Speech Reading. She went on to buy a hearing aid and accepted the school's principal's invitation to take their normal course. Jane went onto to teach speech reading for many years.
She was the founder and member of the Chapel of the Hard of Hearing also the Society of Better Hearing ,The Penna. Horticultural Society and the Acorn Club .