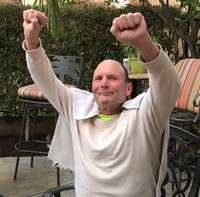 James Joseph Porrino
James Joseph Porrino, age 60, of Lafayette Hill, died suddenly at his home Friday, January 19, 2018 . Jim was born May 3, 1957 in Phila., PA. He is the son of the late Alfred and the late Cecilia (Frank) Porrino Sr..
He was former Construction Worker for Scott Contractors and had worked for many years for the Whitemarsh Twp. Parks and Recreation Dept.
Jim was a proud graduate of Plymouth Whitemarsh High School Class of 1976 and was a life long member of Saint Philip Neri Church in Lafayette Hill.
Jim also coached CYO and was a member of VFW Post 13 Son of a Legion , he also loved animals and working outside.
Jimmy was known for his big heart and big smile and will be sorely missed by his devoted family and many friends.
He is survived by ; his six sisters: Geraldine Ferraro, Lynn Porrino, Joan Vetterlein, Eileen Sanguedolce, Julia Eney and Christine Ward, and three brothers: Alfred Porrino Jr., Ronald Porrino and Gregory Porrino,; ; 26 Nieces And Nephews, 10 Grand Nieces And Nephews,.
A Mass of Christian burial will be held 11:00 am on Saturday, January 27 at Saint Philip Neri Church, 437 Ridge Pike, Lafayette Hill, PA. 19444.
Burial will be in George Washington Memorial Park, Plymouth Meeting .
Calling hours will be Saturday, January 27 from 9:30-11AM at Saint Philip Neri Church.
Memorial donations may be made to The SPCA- 19 E. Ridge Pike,Conshohocken,Pa.19428
.