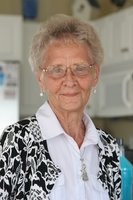 Lois A. Brady
Lois A. (Drust) Brady, age 80, of Normandy Farms Estates, Blue Bell, formerly of Chestnut Hill, died Tuesday, December 26, 2017 at Normandy Farms Estates .
Lois was born February 4, 1937 in Shamokin , PA.. She was the wife of the late James F. Brady. She attended nursing school at Chestnut Hill Hospital and worked there as a registered nurse, for many years.
She is survived by one daughter: Karen Lundquist and two sons: Christopher Brady (Lisa) and Paul Brady, as well as five grandchildren, Ashley Grothaus (Matthew), Caitlin and Heather Brady, Megan and Madison Lundquist.
Lois loved vacation cruises, Halloween parties (always the best costume!), a great meal at The Olive Garden and one of her favorite performers was Rod Stewart. Recently, she discovered a new-found love for vacationing with family, as North Carolina's
Outer Banks became a yearly ritual. She enjoyed puzzles, puppies (her favorite, Holly) and babies, as well as her many friends at Normandy Farms Estates. Scary movies were ALWAYS on the TV when you stopped by for a visit.
A Mass of Christian burial will be held 11:00 am on Friday, December 29 at Saint Helena Church, 1489 DeKalb Pike, Blue Bell, PA 19422. Burial will be private in Holy Sepulchre Cemetery.
Calling hours will be Thursday, December 28 from 6-8pm at Lownes Family Funeral Home, 659 Germantown Pike, Lafayette Hill, PA. and Friday, December 29 from 10-11am at Saint Helena Church, 1489 DeKalb Pike, Blue Bell, PA.
Memorial donations may be made to the Samiratan Fund at Normandy Farms or your local SPCA.