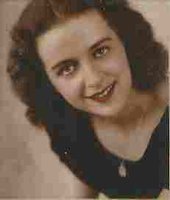 Lillian A. Linton
Lillian A. (Keogh) Linton, age 88, of Lafayette Hill, PA died Friday, December 22, 2017 at Saint Joseph's Villa of Flourtown. Lillian was born November 20, 1929 in Phila. She is the daughter of the late Stephen and the late Helen (Kelly) Keogh. She was the wife of the late Thomas R. "Jack" Linton.
She is survived by five daughters: Lisa Baron (Richard) , Celeste Linton, Joy Whitfield (Peter), Lilly Linton and Stephanie Schanes (David) and 4 grandchildren.
A Mass of Christian burial will be held 11:00 am on Tuesday, December 26 at Saint Philip Neri Church, 437 Ridge Pike, Lafayette Hill, PA.19444 . Burial will be in Holy Sepulchre Cemetery.
Calling hours will be Tuesday, December 26 from 10-11am at Saint Philip Neri Church.
Memorial donations may be made to the Shrine of the Miraculous Medal-500 E. Chelten Ave. Phila.Pa.19144
.