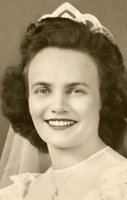 Mary Agnes McGarvey
Mary A. McGarvey died December 16th, peacefully, with her children at her bedside. Mary is the widow of the late John J McGarvey, and is survived by her daughters Mary Jo Pedicino (Dr. Anthony Pedicino) and Sharon McGarvey (Paul Martin), and grandchildren John, Maureen, Megan, and Matthew. Mary was the beloved sister of the late Anne (Galligan), Rita and James Hurley.
Mary was born March 4, 1920 to Mary and Frank Hurley in Philadelphia. Mary grew up in St. Richard's parish and graduated from John W. Hallahan High School in 1938. She married John Joseph McGarvey in 1947, and moved to Washington D.C. where her husband attended Georgetown Law School. Mary remained in Washington D.C., working for the Library of Congress until her daughter Mary Jo was born in 1955. In 1958, Mary and John gave birth to their second child, Sharon Marie.
Mary's husband John would eventually work as a U.S Attorney for the Department of Justice, where he successfully litigated cases in front of the U.S. Supreme court. John's life ended prematurely when he died at age 40 in 1961. Mary was devastated when she lost the love of her life, returning to Philadelphia where her parents and siblings lived, raising her two daughters here.
Mary's unflappable resilience and great faith would enable her to recover from this deep loss. She would ultimately begin a new life, and worked for over 15 years at Mobil Oil as an executive assistant, retiring from the company at age 62. In her retirement, Mary enjoyed playing bridge, traveling, volunteering at Morris Arboretum, driving, and taking art lessons. When Mary was 69, she became a grandmother of twins, Maureen and John, and began a new and most joyful phase of her life. Her daughter Sharon would later give birth to Megan, then Matthew. For over 20 years, Mary took much delight in visiting Megan and Matt in Battery Park City.
When Mary moved from Rosemont to Cathedral Village in 2005 she continued to cultivate her passion for art, inspired by Lynne Campbell, an extraordinary teacher and accomplished artist. Mary remained a steadfast presence at family events and holidays, and was known to warmly greet everyone, offering a quick wit and contagious laugh. Mary's special ability to leave a positive mark on those who came in contact with her, whether it was for minutes or years- illustrates the everlasting power of her unique spirit, something that will remain in the hearts of her loved ones and all those who knew her.
A Mass of Christian burial will be held 11:00 am on Friday, December 22 at Saint Philip Neri Church, 437 Ridge Pike, Lafayette Hill, PA. 19444. Burial will be in Calvary Cemetery.
Calling hours will be Thursday, December 21 from 6-8pm and Friday, December 22 from 9-10:30am at Lownes Family Funeral Home, 659 Germantown Pike, Lafayette Hill, PA..
In lieu of flowers, memorials may be made to Divine Providence Village-686 Old Marple Rd.
Springfield,Pa.19064.