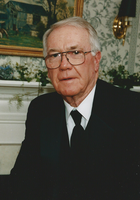 Donald J. Caldwell
Donald J. Caldwell, age 91, of Blue Bell, PA died Friday, December 15, 2017 at Keystone House Hospice, Wyndmoor, PA.. Donald was born August 9, 1926 in Phila., PA. He is the son of the late Francis and the late Marguerite (O'Brien) Caldwell. He is the beloved husband of Joan ( Frank) Caldwell.
He was employed by Allstate Insurance Co.
Mr. Caldwell was a proud graduate of Roman Catholic High School . Following High School he entered the Army Air Corps serving during the World War Two Conflict.
Being an avid golfer he was a member of the Sandy Run Country Club for over 53 years , The Phila. Aviation Country Club and was a former member of Wildwood Country Club.
He was a long time member of Saint Philip Neri Church and was an avid fan of Drum and Bugle Corps.
He will be sorely missed by his devoted family and many friends.
He is survived by his wife: Joan (Frank) Caldwell , three daughters: Leah DiPasquale (Andrew), Megan Caldwell and Kristin Richter (Greg), and two sons: Brien Caldwell (the Late Virginia) and Lance Sweigart. Also survived by 9 Grandchildren and 1 Great Grandaughter.
A Mass of Christian burial will be held 10:30 am on Tuesday, December 19 at Saint Philip Neri Church, 437 Ridge Pike, Lafayette Hill, PA. 19444. Burial will be in Holy Sepulchre Cemetery, Cheltenham .
Calling hours will be Tuesday, December 19 from 9:30-10:30am at Saint Philip Neri Church.
Memorial donations may be made to the Phila. Alzheimers Assn.