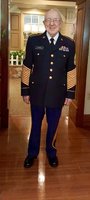 Charles B. Tuttle Sr.
Charles (Charlie) B. Tuttle Sr., age 89, of New Holland, Pa passed away Monday, December 4, 2017. Charles was born August 24, 1928 in Philadelphia and lived there until he retired to Lancaster County.
He is the son of the late John and the late Marie (Wible) Tuttle. He was the beloved husband of the late Kathryn (Lavery) Tuttle.
Charles retired from PECO (Philadelphia Electric Company) after a career that spanned 43 years where he worked in various positions at Schuylkill Generating Station. From there he went on to become a senior trainer working to develop programs in basic and advance power plant theory and practice. Additional responsibilities included tenure as safety chairman and CPR/first-aid instructor
In addition to his work career he also dedicated his time to the service of his country. He retired from the Pennsylvania Army National Guard after serving 38 years. During those years he rose in the ranks from Private to Command Sergeant Major, the highest non-commissioned rank few can attain. The Army Achievement Medal was one of the many medals he was awarded.
Charles was an avid woodworker and reader who was always looking to learn new things. He also enjoyed photography. He spent much of his time in retirement volunteering and helping others. His love of animals was demonstrated by his love and care of the many dogs he had throughout his life. His greatest joy was spending time with his family.
He is survived by two daughters: Kathryn Lloyd (Frank) and Deborah Tuttle, MD (John Piper, MD), one son: Charles B Tuttle, Jr. (Karin), and four grandchildren: Amanda , Noelle, Lauren and Peter Tuttle.
A memorial service will be held at 2:00 PM on Sunday, December 10 in the Chapel at Garden Spot Village, 433 S. Kinzer Ave, New Holland, PA 17557. The family will receive visitors between 1:00 PM and 2:00 PM on Sunday, prior to the memorial service in the Chapel at Garden Spot Village.
Burial with full military honors will be held privately at Indiantown Gap National Cemetery, Annville, PA on Monday December 11, 2017.
Memorial donations may be made to Wreaths Across America for Indiantown Gap or Liberty Hospice at Artman Home, Ambler PA.