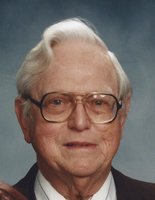 Robert C. Walter Sr.
Robert C. Walter Sr., age 98, of Blue Bell, formerly of Lafayette Hill died Tuesday, November 7, 2017 at Normandy Farms Estates of Blue Bell, PA. Robert was born October 9, 1919 in Philadelphia, PA. He is the son of the late Howard and the late Carrie May (Bickel) Walters. He was the husband of the late Louise (Harlan) Walters who died in 1992. He was preceded in death by his brother, Edward Bickel Walters in 2002, his daughter, Carol J. Degutis in 2007, and 2 great grandchildren, Ariel and Jared.
Bob, as known to friends and family, was born in Philadelphia but was raised on the family farm in Rehrersburg, PA and grew up in the Trinity Reformed Church of Rehrersburg. He graduated from Penn State University in 1942 with a master's degree in political science. His family moved back to Philadelphia during WWII, where he joined Olivet Covenant Presbyterian Church and he remained a member there for the rest of his life.
While serving in the Army's Strategic Services Unit, he met Louise who also attended Olivet Covenant and they were married on November 30,1946. They moved to Lafayette Hill, PA in 1958 where they raised their family.
Bob's career was Industrial Engineering. He worked for RCA, Raymond Rosen, Martin Marietta and Philco which was acquired by a division of Ford Motor Company from which he retired. He also taught industrial engineering and management at Ursinus College for several years.
He was a member of Toastmasters International, the Gideons, and served as a volunteer on many community organizations, tutoring young people or supporting environmental efforts. As an active elder at Olivet Covenant, he taught Sunday School, held Bible Studies, and served on a number of committees for the Presbytery of Philadelphia.
A resident of Normandy Farms Estates for the last 18 years, Bob played water volley ball and bridge, loved dancing, and acted as emcee for special events. He also wrote many articles for the Normandy Farms Newsletter.
Bob loved to travel, and he loved hiking and being outdoors. He was an avid reader with an appetite for knowledge. History, biographies, nature, commentaries on religion, and the Bible were among his favorite subjects.
Bob was well loved and will be missed for his quick wit, storytelling, and faith filled life. Our family is extremely grateful for his long and exemplary life. He was our patriarch, we loved him and will miss him.
He is survived by one son: Robert C, Walter Jr. (Denise) of Blue Bell, PA and 3 Grandchildren-Nicole, Amy, and Peter.
A memorial service will be held 2:00 pm on Sunday, November 19 at Normandy Farms Estates Chapel, 4000 Twin Silo Dr, Blue Bell, PA 19422. The burial will be in Trinity Union Cemetery, Rehrersburg on Saturday, November 18 at 11:00 am.
Calling hours will be Sunday, November 19 from 1:30-2pm at Normandy Farms Estates Chapel.
In lieu of flowers, donations to any of the following missionaries would be appreciated:
Literacy & Evangelism International
Bob Biederman
1800 S Jackson Ave
Tulsa, OK 74107
(918) 585-3826
https://www.literacyevangelism.org/give/biederman
Jeff and Holly Robinson
Wycliffe Bible Translators
P.O. Box 628200
Orlando, FL 32862
1-800-WYCLIFFE (992-5433)
https://www.wycliffe.org/partner/jeffandholly
Dave and Linda Lackey
Wycliffe Bible Translators
P.O. Box 628200
Orlando, FL 32862
1-800-WYCLIFFE (992-5433)
https://www.wycliffe.org/partner/29D495
.